Home Theater Installation
Kansas City Home Theater Experts
Home Theater conjures different ideas to different people.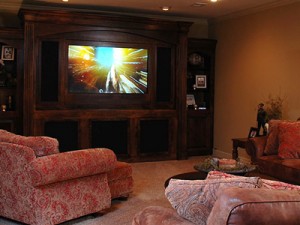 Your idea of a Home Theater may be a room dedicated solely to providing you with an entertaining escape; watching movies on a large projection screen, immersed in surround sound and relaxing in cinema-style seating. Alternatively, your idea of Home Theater could be a simple area for relaxing and entertaining while watching television or listening to music.
CINEMA AT HOME understands this, so we approach each client and system design individually. We listen carefully to your desires and expectations; this allows us to create a true custom Home Theater space just for you. Many clients may not even know what to expect or want from a Home Theater. So whether you are an A/V expert or a novice, consulting the professionals at CINEMA AT HOME is the first step in creating a unique and entertaining Home Theater experience.
Dedicated Home Theater Installation
A Dedicated Room for a Home Theater is for those who literally want a Cinema at Home experience. Transforming a room or space into a true cinematic experience is only limited by the imagination. CINEMA AT HOME can create your own personal cinema with all the details; including stadium style seating, projection screen, cinematic decor, automated lighting control, digital surround sound and precise acoustical treatments. We even specialize in "Extreme Theme Theaters", or theaters with a specific theme design such as Sci-Fi Themes, Sports Team Themes and just about any theme or interest you may have!
Media Rooms Installation
Media Rooms have become the "must have" room for the new century. Men love them, kids want them, and women like that they are perfect for entertaining. Casual and comfortable probably best describes a Media Room, while providing a family gathering place for watching movies and television, listening to music or playing video games. Media Rooms are quite popular here in Kansas City homes!
Surround Sound Installation
Surround Sound adds a whole new exciting dimension to home entertainment! So important is sound to a Home Theater, that experts agree the majority of your cinematic experience comes from proper Surround Sound. CINEMA AT HOME are experts at integrating Surround Sound systems into your home, often in such a way that the speakers are never seen… only heard. Filling an entertainment room with 360 degrees of Digital Surround Sound draws you into movies or music for an experience like no other!
Star Domes and Ceilings
There is probably nothing more peaceful and serene than a clear, night sky full of stars. CINEMA AT HOME can bring this tranquility right into your home or business, no matter what time of day. Installing Numinus StarDomes and StarTiles transform uninteresting white ceilings into celestial works of art! StarDomes and StarTiles feature fiber-optic lighting that realistically recreates a twinkling sky with shooting stars. Any room of the house can be accented with these dynamic night skies; foyers, living rooms, bedrooms and most of all Home Theaters.
In the greater Kansas City area? Get your Free Home Theater In-Home Consultation & Estimation
CINEMA AT HOME offers FREE, No-obligation, In-home Consultations.
Call 913-515-2081 or schedule a Free Consultation using our Online Form.