Flat Screen & Mirror TV Installation
Kansas City Flat Screen TV Installation
What now?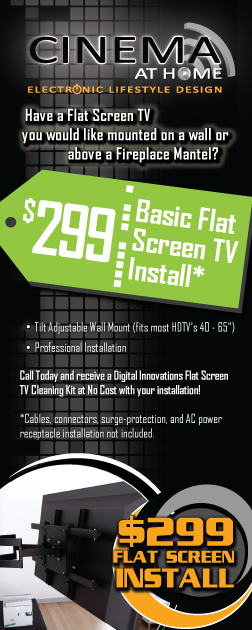 Getting a new television is always an event. From searching for the perfect Flat Screen TV, to determining just HOW MUCH TV you can fit in your space – a lot of time can be spent finding the perfect television to suit your needs. Getting the new Flat Screen TV home is when things get exciting! You are about to bring your home entertainment to the next level… but once the TV is out of the box – this is when things can get a little complicated.
Common Flat Screen TV Installation Questions
The television cord reaches the outlet but how do I hide the cables?
The television cord DOES NOT reach the outlet. What do we do now?
How am I going to get this TV mounted over the fireplace? Is is safe?
What kind of mount should I use to reduce neck strain?
Where do I put my where Cable box, Blu-Ray Player, Game console, etc?
How do I hide a Flat Screen TV in a formal room?
How much is a Mirror TV? Will it work in my room?
How big of television do I need?
Which is better? Plasma, LED, LCD, OLED?
How good are 3D TV's?
CINEMA AT HOME has answers and solutions for all your Flat Panel/Flat Screen HDTV questions!
Mirror TVs and Hidden TVs
How to make your new Flat Screen TV disappear!
In addition to the more traditional Flat Screen television installations, CINEMA AT HOME also offers unique solutions for hiding and disguising your Flat Panel TV. This is a great alternative for areas of your home that you don't want competing with your décor! For these areas and rooms we provide "now you see it, now you don't" hidden TV installation options such as; elegant Mirrored TVs, Motorized TV Artwork Frames, and Custom Motorized-Lift Furniture Enclosures.
The Mirror TV is a perfect option for your bathroom. We combine a L.E.D. HTDV with special mirrored-glass to provide a magically appearing and disappearing TV! Only Snow White could be so lucky, until now. Imagine getting ready for a night out and you are in front of the mirror deciding what to wear. Then you think to yourself will it rain tonight? How cold or hot will it be? Well, with a Mirror TV you can have the local news or weather report instantly appear behind the mirror glass! Simply magical, don't you think?
Flat Screen TV Installation Options
Table or TV Stand Installation
Wall Flat Screen Television Mount Installation
Above Fireplace Flat Screen Television Mount Installation
Wet Bar Flat Screen Television Mount Installation
Ceiling Flat Screen Television Suspension Mount Installation
Projector Wall or Ceiling Installation
Outdoor Flat Screen Installation
Custom Mirror, Hidden Art Work, and Motorized Flat Screen Installations
Motorized Projectors and Projection Screen Installations
Live in the Greater Kansas City area and need a Flat Screen installed?
CINEMA AT HOME offers FREE, No-obligation, In-home Consultations.
Call 913-515-2081 or schedule a Free Consultation using our Online Form.