Our Services
Professional Home Theater Installation & Electronics Integration Services in Kansas City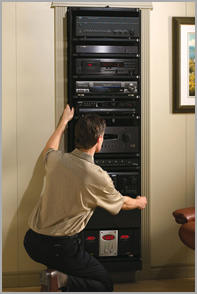 We at CINEMA AT HOME are excited to bring to you the latest advances in Home Entertainment, Automation Services and Home Systems Integration; including Home Theater Installation, Lighting Control, Video Surveillance/ Security, HVAC Control, Wire/Cabling Services, Custom A/V Cabinetry and much more!
What sets us apart from other Kansas City A/V companies is not only our exceptional expertise and professionalism, but our ability to manage your project while providing you with  "turn-key" solutions; no matter how large or small. From simply installing a Flat Screen TV to designing and building a complete Dedicated Home Theater basement finish for your family; we have the expert resources to do so.
One-Stop Home Theater & A/V Integration Services
For instance, in addition to your A/V needs, your project may require the skill of Licensed Electricians, or Cabinet Builders, or Trim Carpenters, or Interior Decorators, or Professional Painters, or Landscapers, or Home Remodelers, or Flooring and Window Treatment Specialists. These trades and disciplines are just a few of the services we have partnered with, and work alongside with, on a daily basis. These companies have met our strict guide-lines of professionalism, reliability, work ethic, certification, service rates and more.
This in turn saves you both time and the stress of having to locate these types of service providers, then waiting for estimates, making calls to referrals, and finally hoping you have selected a competent company. This CINEMA AT HOME service alone assures your project will move smoothly from beginning to end while ensuring professional, reliable results.
Serving the Greater Kansas City area – Let us create your CINEMA AT HOME today!
CINEMA AT HOME offers FREE, No-obligation, In-home Consultations.
Call 913-515-2081 or schedule a Free Consultation using our Online Form.