"The magic behind all properly integrated systems begins within the walls with miles of wires and fiber optics!"
Well, if walls could talk they would have plenty to say about Cinema at Home. That's because walls, floor. ceilings and trim all provide spaces for us lay and hide our foundation of cables. Lots of cables in various sizes and colors; each with its own dedicated purpose.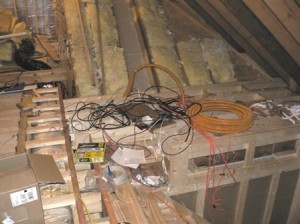 Would you believe that even a so called "Wireless" system requires a significant amount of cables and wires? Have you ever worked with a so-called "Paperless" system in your office or workplace… didn't that seem to actually generate even more paper? Same principle.
Matter of fact, the hardest part of correctly bidding AND installing of any system is the Pre-Wire Phase of the project. Predicting numerous runs of required cables and wires must be carefully calculated down to the cost per foot. Then estimating labor costs to pull, run, label, terminate and electronically verify each of these cables must also be very carefully calculated. The Pre-Wire Phase alone can make or break a project budget, and unfortunately this is one area the homeowner probably hasn't included in theirs.
In anticipation of rapidly advancing technology we at Cinema At Home install a means for future cable access called… well… Future Cable Conduit. This usually consists of 3/4″ to 3″ PVC pipe inserted during early framing and construction that run from strategic locations within the home. A perfect example would be a 2″ PVC pipe spanning from the basement clear to the attic of the home. This provides an "expressway" to run additional or new cables throughout a home without having to tear into walls long after construction is complete. This is one very easy and inexpensive step that EVERY home builder should do… but the majority do not.
Why so many wires? Well back in the early years of television, you received over-the-air broadcasts via antennas attached to your TV set… remember "rabbit ears"? But today our broadcasts are much more complex. Satellites orbiting the earth now relay broadcasts in the form of digital transmission. And that digital information now requires special cables, wires and fiber-optics to handle all this content.
So when will everything be wireless? Who knows? In the last few years we introduced HDMI, a special single digital cable that can carry digital video, digital audio, Ethernet and two way communication between devices. This was no easy trick… and we still have issues with HDMI. Then there is fiber-optic. A cable made from glass or plastic that allows digital information to travel in the form of light-waves. However, due to costs, the potential of fiber-optics is only now really being seen at the residential level. Google Fiber is just breaking the surface to introduce some of the incredible possibilities of fiber-optics to Kansas City. Fiber-optic allows a means for incredibly fast Ethernet, crystal clear telephones communication, streaming Super High Definition video and so much more.
I believe in my lifetime we may see a true "wireless/cableless" solution… but no time soon. In the meantime, we at Cinema At Home will continue to pre-wire our projects accordingly while also anticipating options for the future.