The Bove Family Entertainment Room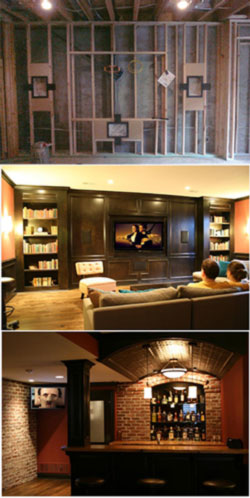 The Bove family had a wish to turn a cold, drab unfinished basement into a cozy, comfortable area for entertaining and relaxation. These Before and After photos are just a mere glimpse of even the use of old, used brick and mortar.
The warm Media Room also included a beautiful Mediterranean Style Wet Bar and Exercise Room featuring a Bamboo Floor. All three areas feature both distributed audio and video systems, with the Media Room featuring Digital Surround Sound and a beautiful 63″ Samsung HD 1080p Plasma display.
A ventilated storage closet beneath the stairway was home to our equipment rack, powered subwoofer and all A/V components. The entire entertainment environment is easily controlled via two RTI Handheld LCD Remotes and a single RTI processor, all custom programmed for simple one-touch operation.
DENON 7.1 Multi Zone Receiver
TRUAUDIO Loudspeakers and powered 12″ Subwoofer
SAMSUNG 63″ 1080p Plasma Display (Media Room)
SAMSUNG 32″ 1080p LCD Display (Wet Bar)
SAMSUNG 32″ 1080p LCD Display (Exercise Room)
PANAMAX Surge Protection
APPLE TV (Media Room)
APPLE TV (Exercise Room)
DirecTV HD Receivers (2)
Wii Game Console
MADCATZ Wireless Wii Control Bar
PLAYSTATION 3 Game Console
SCHMARTZ PS3 IR Adapter
RTI T2Cs Color LCD Controller
RTI M2 Monochromatic LCD Controller
RTI RP-6 IR/RF Control Processor
NETGEAR Gigabit Ethernet Switch
ATM Cool-Line Closet Thermostatic Exhaust Fan
MONSTER Surge Protection
EPISODE Surge Protection
NXG TECHNOLOGY Cables
ICE CABLE SYSTEMS wires and cables
VINTAGE HD Cables
STRONG Video Mounts
STRONG A/V Rack
SANUS Video Mounts